Best Reef Tank Lighting of 2020
Here is our top-rated lighting systems for saltwater aquariums and reef tanks with a focus on coral growth and health along with how with easy the light is to use and set up for a successful Reef Tank. With so many options available we go through the most popular all the way to the best budget lighting systems available.
Selecting the perfect light for your saltwater aquarium can be a tough choice with all the options available on the market today. Everyone will want something that grows coral, but when it comes to features, form, and mounting options there is a wide variety of options. Since every saltwater aquarium is different in dimensions and construction, but also the inhabitants inside selecting the best light for your reef system can be a daunting challenge. Over the years with research into how corals grow and the lighting spectrums they need to thrive, companies like Ecotech, Kessil, and Aqua Illumination have refined their aquarium lights making it easier to be successful growing coral in a saltwater aquarium.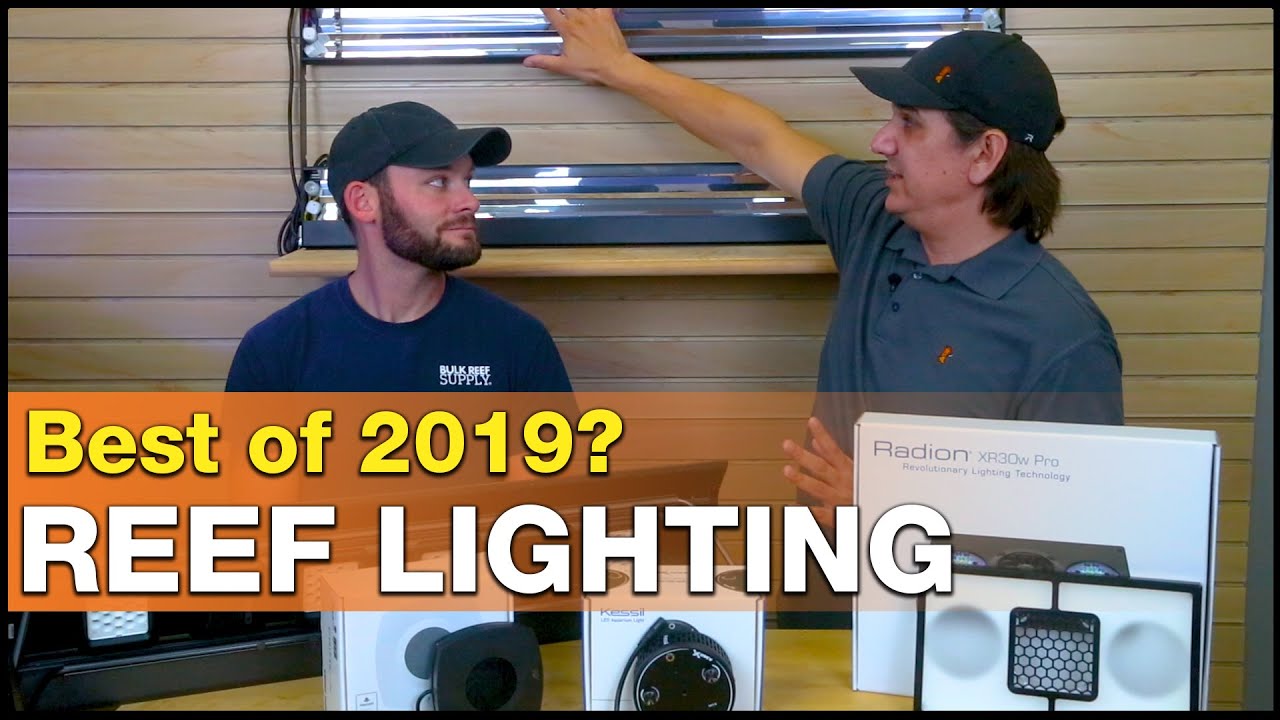 "Stop Reef Tank Lighting Confusion! These are the best Saltwater Aquarium Lights for 2019" - BRStv
Since everyone has different requirements for what their ideal reef tank light will be, it is hard to select just a single one. LED Lights like the Ecotech Marine Radion XR30 series have the ability to produce almost any spectrum of light and with pre-set programs like AB+ that have been proven by large coral vendors to not only grow coral but allowing the coral to produce beautiful colors that every saltwater aquarium owner craves. Other lighting systems like the Kessil A360X Tuna Blue LED are super simple to use and have multiple mounting options that will work with almost every aquarium type. Every Kessil A360X light comes with onboard control knobs that let you customize the intensity and spectrum, but can also be upgraded with the Kessil Spectral Controller X that can control the light to produce a full-day's lighting schedule. Kessil is known for using Kessil Logic, ensuring the lights are always producing an ideal spectrum that your corals can utilize for photosynthesis.
Many of the LED lights come as a module and can make lighting larger tanks a hassle if you do not have a hood or ceilings that allow you to hang or mount your light from, making a full-length fixture a pretty attractive option. By far the most popular technology that has come into the saltwater aquarium world is hybrid light fixtures. Aquatic Life Hybrid Light Fixtures include integrated T5 lights built into fixtures and mounting plates that can adapt to a vast majority of LED modules. We have found great success in using hybrid lighting systems for the past couple years and instead of needing to piece together multiple parts, the Aquatic Life Hybrid fixtures look great and are functional. Maxspect has been producing lighting fixtures for almost a decade now, and the new Razor X5 series is the culmination of years of research and refinement. The Maxspect Razor X5 is one of the few lights that can be fully programmed through the on-board interface and does not require an external controller. Thought they are lacking in some features that other lighting modules provide, the Razor X5 series can put out some serious light and should never be overlooked as an option to light your aquarium
For those with nano reef tanks or even pico reef tanks do not need a lot of lighting intensity and that is why the Aqua Illumination Prime HD lights make our list. Easily one of the most popular lights because they really tick all the boxes in what you may be looking for. Using the MyAi app, programming the Aqua Illumination line of LEDs is actually enjoyable and the small form factor makes them a great option to use on their own or to incorporate into a hybrid fixture.
At the end of the day, if you are going to be growing coral in your saltwater aquarium, the light is one of the top life support system choices you are going to make. Without photosynthesis, corals simply wouldn't survive and many of the "cheaper" lights you can find will produce light in your aquarium but may not have the proper spectrum or be able to achieve the intensities required by some corals.