Best Reef Tank Powerheads for 2020
Every saltwater tank needs flow and that is usually provided with powerheads. Aquarium Powerheads range in sizes and flow rates, and depending if you have a full blown reef tank or a FOWLR tank the flow your aquarium needs can vary greatly. We chose our top 5 powerheads for 2020 that range from budget options to pumps that can create a standing wave in your aquarium.
With our saltwater aquariums the goal is to recreate a natural ocean environment that our animals came from, and making sure that there is proper flow in the tank can greatly increase your chances for success. The tide movements in the ocean are different all over the world and some corals like soft corals and large polyp stony (LPS) corals like low to medium flow, where small polyp stony (SPS) corals like medium to high flow. Every species is different and doing your homework on what your corals will prefer for flow is essential for them to thrive. Flow requirements can range from 10-times your display tank's volume all the way to 6,000-times the volume, and with the different flow ranges come different control types. Most budget powerheads will have a traditional plug that goes into the wall and is always on. You can now pair most AC powered pumps with a cheap analog or digital timer to have them automatically turn on and off throughout the day, but more of the higher flow pumps now come with a controller and are powered with DC motors. Controllable powerheads let you choose how much flow the powerhead puts out, but many of them also let you program them to change the flow rates multiple times a second, making your saltwater aquarium more like the ocean.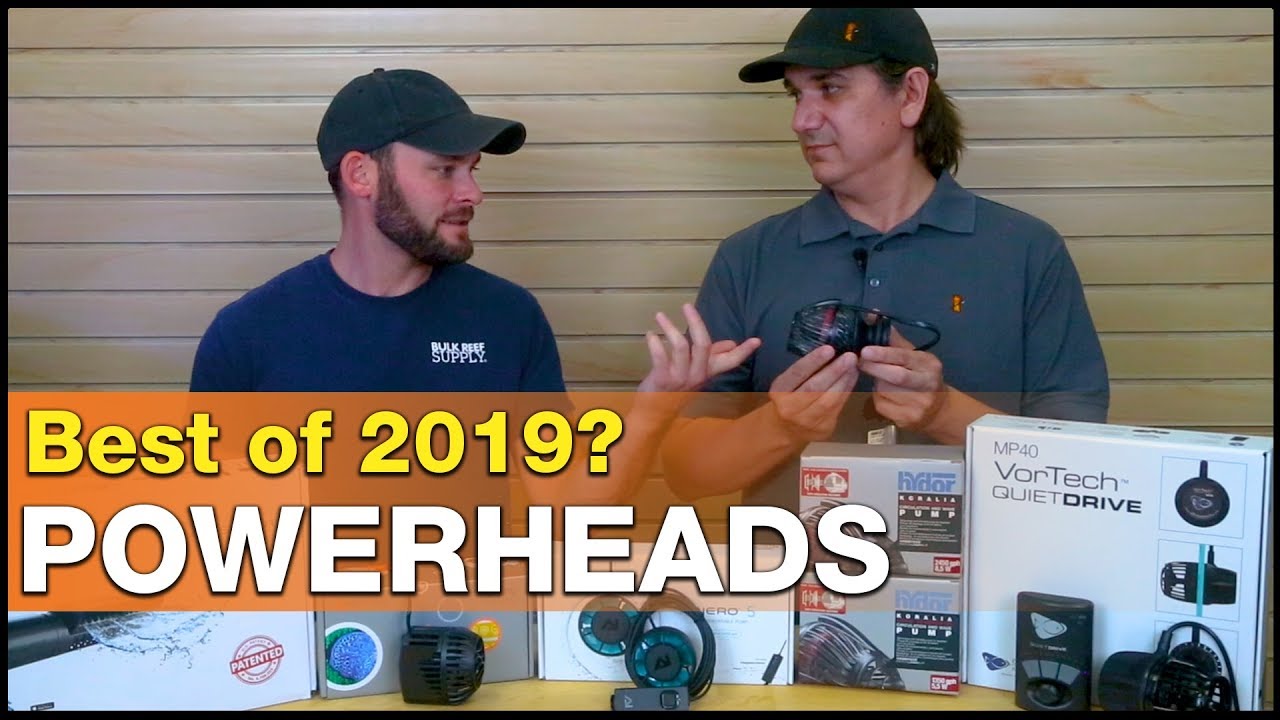 "Which Pumps are BEST for our tanks? It Our List of Best Powerheads for 2019" - BRStv
Many saltwater aquarium owners start with non-controllable powerheads but after a while will eventually upgrade to a controllable model. By far the most popular powerheads are the Ecotech Marine Vortech series of pumps. They use a patented technology to keep the motor and all electronics outside of the aquarium, and the propeller housing is the only part that goes in the tank, keeping the in-tank profile very minimal. Ecotech's Vortech pumps come with wireless controllers that can link to other Ecotech powerheads through a master/slave relationship for endless programming possibilities.
If you have an Apex Controller, the Neptune Systems WAV Powerheads are the go-to choice. Working with their 1Link power system, you no longer need to have bulky power supplies for every device. That makes cord management much easier and also allows direct programming and monitoring management through the Apex Controller. The Neptune WAV powerheads are very compact and have a really nice magnetic mounting system that lets you get full control over where the flow is going in your aquarium.
If you are looking for the most compact powerhead, the Aqua Illumination Nero 5 is tiny, but still puts out enough flow for 100+ gallon reef tanks. They come with an in-line controller but can also be connected to the MyAI application for wireless control through any iOS or Android device that has bluetooth. The Nero 5 paired with the MyAI application gives you full control over the flow throughout the day and is also one of the most intuitive applications we have found, and makes programming the pump actually enjoyable.
A little larger than the Nero 5 powerheads is the Maxspect Gyre line of pumps. They are by-far the most unique powerheads available, giving a sheet-like flow pattern that can really move some water around a reef tank. The biggest difference is instead of a traditional propeller the Maxspect Gyre powerheads use a cage-style impeller that spreads the flow across the entire body of the pump which gives them a flow-style that can span a long tank and create a really nice undertow current. Gyre pumps are great for bare bottom reef tanks since they can create a sweeping effect to clear detritus and other settled waste from under your rockwork.